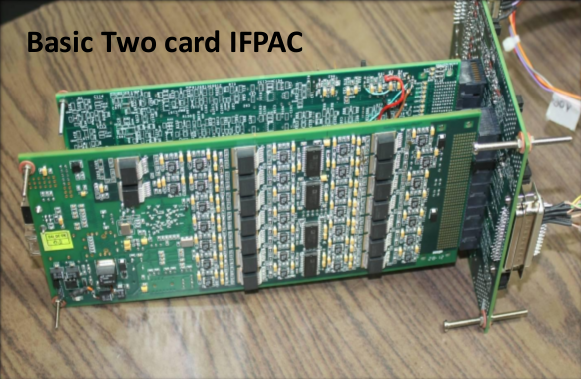 IUCAA-Focal Plane Array Controller (IFPAC) system is being developed at IUCAA as a generic controller for a wide variety of astronomical detectors like CCDs, EMCCDs, CMOSs, Hybrids etc. It is a multi-controller, multi-interface, scalable system.
The controller can be easily configured to suit the types and number of detectors to be controlled. For two four output detectors, the basic configuration consisting of only one analog, digital and backplane card is sufficient. A Xilinx make Virtex-5 series FPGA is used as an embedded controller for generating detector and observation specific readout clocks, reading multiple 16 bit serial ADCs and programming DACs for bias voltages. Each video channel can be read out at 1 MSPS, and is processed with analogue CDS operation and then converted to digital numbers using 16 bit serial ADCs. USB 2.0 as well as Ethernet ports have been provided as PC interface for host communication. Command exchange and data transmission can be shared on a single interface or be transmitted separately over the two interfaces.
Functionality and capability of this basic configuration can be doubled by combining two such controllers, in which case one of the digital cards can be
configured to act as a master and communicates to the other through a fast serial Rocket-IO interface over a fiber link. For large mosaics, this system can be further expanded by combining two or more of the basic units which can, if required, all sync through Rocket-IO links over copper/fiber or SMA connectors. The host software runs on a Linux PC and users can configure the controller on the fly for the current detector system and demand arbitrary ROI readouts along with overscan and dark pixels.