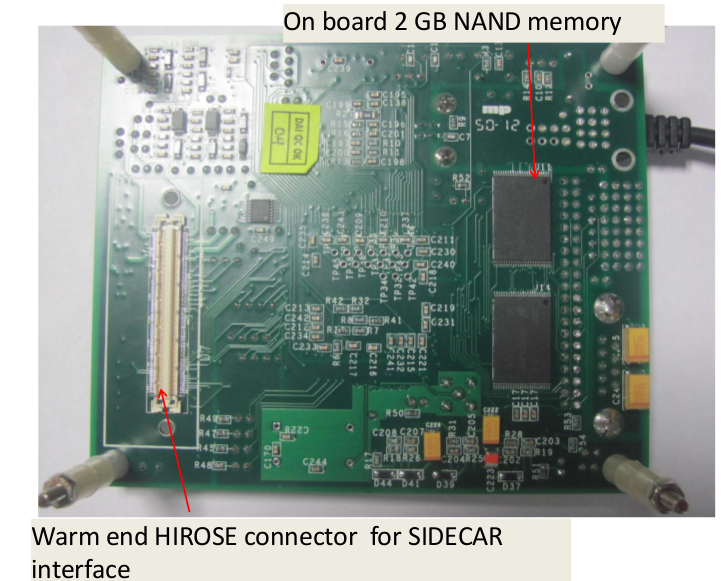 IUCAA SIDECAR Drive Electronics Controller for Teledyne HAWAII type Detector (ISDEC) is an alternative for Teledyne make JADE2 based controller.
It is a ready to use complete package and has been developed keeping in mind general astronomical requirements and widely used observatory set-ups like preferred OS-Linux, multi-extensions fits output with fully populated headers (with detector as well as telescope and observation specific information),etc. Actual Exposure times are measured for each frame to a few tens of microsecond accuracy and put in the fits header.
In this system, the computer which hosts the application programme, user interface and device drivers run on a Linux platform. It communicates through a hot-pluggable USB interface (with an optional optical fibre extender). The FPGA board in turn, controls the SIDECAR ASIC and through it a HAWAII-2RG detector, both of which are located in a cryogenic Dewar which is liquid nitrogen cooled.
Hardware - (Designed to work at - 40 deg C)
On board 2 GB NAND memory

Fast USB 2.0 interface (with optional external copper to fiber converters) to communicate with Host PC for configuration and science data read out

Built around Xilinx Spartan-IIIE FPGA – supports CMOS and LVDS interface with SIDECAR ASIC

On board NAND memory (2 GB)

Fully compatible with Teledyne supplied HxRG firmware

Multiple state machines to support different modes

Serial I/F for configuration and programming SIDECAR and 16 bit parallel interface for science data read

Line Buffer with on chip FIFO design using BLOCK RAM

Effective use of PLL and DCM to support wide range of operation (horizontal clocks from 50 KHz to 500 KHz).

Software Features
Linux based, Developed in C, Make, Make-install based installation

Asynchronous USB transfer mode

Command line options / Parameter Files

Libraries used argtable, cfitsio, options, usb 2.0,pthreads